Kaden Taylor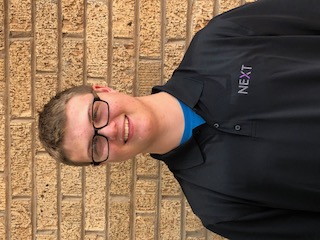 High School Student
Expected Graduation: May 2019
Email: krt18b@acu.edu
I am currently a high school senior living in Las Cruces, New Mexico. I worked with NEXT as an unpaid intern for four weeks in the summer of 2018. When I get to college, I would like to major in physics or mathematics, and eventually, go to graduate school in one of these degrees. I would love to one day have a career in research, maybe as a professor at a university, and I feel as if NEXT was my first way to do this.
Contribution to NEXT
I worked with the Molten Salt Test Loop group during my internship. I worked with some data in forming pump curves for pressure and flow rate inside the testing loop and learned a new software to do so. I also worked with creating a second way to collect data on pump speed. Lastly, I helped find and compare different materials for personal protective equipment for high temperatures.
What you like about NEXT?
I like NEXT because it gave me a chance to apply what I learned in my high school courses in real, legitimate research. I believe NEXT Mission to research molten salts and eventually build a full molten salt reactor is essential for solving the world's energy problems. I'm very thankful for NEXT to give me this opportunity to learn and to help the world.